Category: Workplace Stress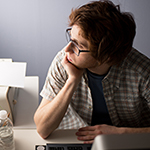 Elijah in the Wilderness
After a prolonged struggle with King Ahab and the priests of Baal, the great prophet Elijah was completely exhausted. He journeyed by himself into the desert and asked God to take his life; he then lay down under a broom tree and fell asleep, awaiting death. Elijah's friends and allies were gone, he had failed to save Israel, and he was too tired to go on.
But an angel sent by God awoke Elijah and gave him food and drink. After more rest, the angel brought Elijah to Mount Horeb to meet God in a cave.
After experiencing a great wind, a powerful earthquake, and a fire, Elijah encountered sheer silence within which he heard the voice of God sending him back out to fulfill his calling. And so Elijah, refreshed, returned with power to the world and did indeed fulfill his calling from God. (Adapted from 1 Kings 19)
From our vantage point, it is not too hard to see Elijah as an extreme case of work-related burnout. He was exhausted, he was without friends, and he felt like a failure. Burnout is a big problem; if we have not experienced it ourselves, we probably will at some point in the future and in any case we probably know somebody who is confronting burnout right now. But there are things that we can do.
read more