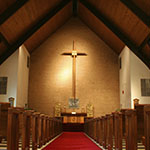 And a Time of Waiting.
We are about to enter the season of Advent – – the roughly four weeks leading to Christmas Day. Most of us know this is an extremely busy time, maybe even a frenetic time – – with crowded stores and streets, too many events and obligations, and quite often in our work a year end crush of deadlines. For many of us, this is by far the most stressful time of the year.
This can be especially true for those of us who lead busy, or particularly stressful, work lives. The added pressure of the season can really increase the emotional load that we are carrying.
But Advent can also be a time of waiting, of reflection, and of laying the foundation for spiritual renewal. It can be a special time to turn our attention towards God in the hope of connecting with something deeper than ourselves.
(ime: 7:02)
Listen:
iTunes / Stitcher / Google Play or

read more