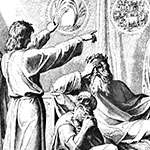 Insights from the story of Joseph
In this episode we talk about financial crisis, and how our faith and our spirituality can help us prepare for and survive such crisis.
As we go through our lives most of us encounter financial ups and downs, sometimes very serious ones. This is true for both individuals and for societies. And in the interconnected world of today, the global economy as a whole can move through a series of economic expansions and contractions, sometimes leading to improved material well being, sometimes to hardship.
We will discuss the Biblical story of Joseph and the Pharaoh and how this might provide us with some important insights into how we can weather the storms.
(Time 8:47)
Listen:
iTunes / Stitcher / Google Play or
read more