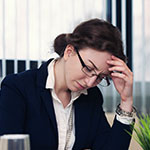 Maybe your body can help.
There's a lot of talk about spiritual practices, especially prayer and meditation, that can help us deal with stress.
But there's another approach that might help — connecting with our bodies.
In a recent Harvard Business Review article, Leah Weiss of the Stanford Graduate School of Business and Hope Lab, recommends some things to help us become anchored in our bodies, as a way of dealing with work related stress. She recommends things like paying attention to a single intentional breath, noting our physical response to stressful situations, and magnifying small, physical pleasures — like the first sip of coffee.
There's more and the article can be found here.
read more