Category: Spiritual Aspects of Leadership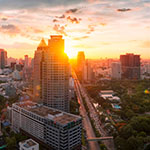 People are worried. Confidence in the economy and the direction of society continues to drop in the face of new threats. Anxiety is natural as we move into an uncertain future.
But our ancestors survived threatening circumstances and created a better world, and so will we. Despite our problems, we can still contribute to the greater good and build better lives, each in our own way.
For those of us in business, this means working with courage and hope as we identify new opportunities and work to build a better future.
read more