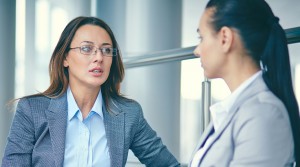 Workplace chaplaincy services are receiving increased attention and appear to be a growing phenomena.  An article by Cheryl Hall in the Dallas Morning News (November 25, 2014) reports on the firm Marketplace Ministries, Inc., and its founder Gil Stricklin.
Hall reports that Marketplace Ministries hires chaplains and provides services to businesses and other organizations for a fee; last year the company had 2,755 chaplains on assignment.  The chaplains provide a variety of services, all at the option and initiation of the employee.  These can include counseling, providing a sympathetic ear, and helping the employee find resources for dealing with personal and family problems.  Spirituality can be involved — but only at the invitation of the employee.
Advantages of Workplace Chaplains
One of the apparent advantages of having a workplace chaplain is that an employee with a problem can feel more confident that the problem will not effect their employment since they will not be disclosing it to a company employed human resources person who might also be involved with personnel evaluations and employment decisions.
Another advantage is that some problems are seen by some employees as having a spiritual or religious component.  Dealing with a chaplain allows the employee to consider this aspect with the chaplain, if they chose to do so.
The Church and the Workplace
Workplace chaplaincy sounds like a valuable service but most of us do not have access to a workplace chaplain.  I wonder if the church could provide more of this type of service.
Perhaps pastors could devote more time to visitations in the workplace, and maybe even become familiar with more of the employees in firms owned or managed by members of the congregation.  They could also make it a point to encourage the discussion of workplace issues in church settings.  My guess is that these sorts of interactions would benefit both the lay person who receives the support and the pastor who would see a different side of the member.  Both would develop a better sense of how faith and work might connect.
A problem, of course, is that pastors have very limited time available for new areas of ministry, especially in churches that already  require pastors to spend considerable time managing programs.  The burden for workplace ministry might therefore fall on lay ministers in many churches.  Lay counselors, workplace oriented small groups, and the exchanging of workplace visitations all come to mind and might be useful.
A key place to start, it seems to me, is for the church and its leaders to recognize the workplace as a key area of ministry, to adopt an appreciative attitude toward the work lives and businesses of the members, and to encourage lay ministry in this area.  Members of the congregation need to know that they can bring workplace problems to the church for discussion and support.