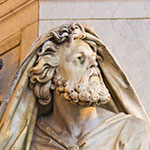 Advent as a Time of Spiritual Renewal
Advent can be a time of spiritual renewal. And in our work lives it can be a time for cultivating a spirit of wisdom and understanding.
Imagine how our work lives, our working environments, and our organizations might change if we ourselves acted with a greater spirit of understanding and wisdom, and fulfilled something of the role envisioned by the prophet Isaiah (see Isaiah 11:1-2). We might not be able to change the world, but each of us has a certain circle of influence upon which we can have a positive impact, if we are able to act with the spirit of which we are talking.
And so how might we cultivate a spirit of wisdom and understanding?
(Time: 8:59)
Listen:
iTunes / Stitcher / Google Play or
read more