Join us as we explore ways to seek spiritual renewal in our work lives. We cover topics such as spiritual practices for the workplace, finding purpose in our work, dealing with workplace stress and other forms of workplace toxicity, spiritual aspects of leadership, and others. We hope you will join with us in this quest!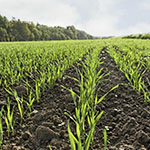 And the Fight Against Famine.
This week we talk about the story of Norman Borlaug and his fight against famine. We also note some of the theological implications of Borlaug's work.
Borlaug was a Nobel Prize winner who died in 2009. His work in the field of agriculture may very well have saved hundreds of millions of lives from famine. He and his teams accomplished this by developing new breeds of wheat and new agricultural methods in Mexico, Pakistan, India, and other countries, at a time when each of these countries faced the prospect of mass starvation. And they did so in the face of powerful political opposition.
(Time 10:54)
Listen:
iTunes / Stitcher / Google Play or
read more