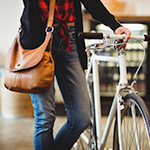 Some of us have trouble leaving our work behind at the end of the day and have an unfortunate tendency to bring our stress and other pre-occupations home with us. This not only makes it difficult to recharge our batteries, but can also hinder our non-work relationships and activities.
Jackie and John Coleman ("Don't Take Your Work Home with You") offer a number of ideas that might help. For me, one in particular stands out: "have an end of work habit". I would like to explore this idea further.
Perhaps we could develop a ritual of some sort to help us make the transition from work. . .
read more