Join us as we explore ways to seek spiritual renewal in our work lives. We cover topics such as spiritual practices for the workplace, finding purpose in our work, dealing with workplace stress and other forms of workplace toxicity, spiritual aspects of leadership, and others. We hope you will join with us in this quest!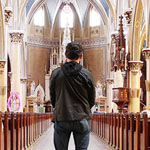 Humility, properly understood, can make an important contribution to our spiritual and psychological flourishing, and can have very important benefits for our work life.
It is helpful to think of humility as having to do with a reduced focus on one's own self. The person with humility is less concerned with maintaining a high degree of self-importance, or high social status, and is therefore more open to information and insights from others, whether it supports his or her own viewpoint or not. This can be very important in our work life.
If we are more open to information that has not been filtered through our own ego needs, we are more likely see things as they really are and to act with wisdom. We are also more likely appreciate other people, and the contribution they make; this is bound to lead to stronger relationships, greater collaboration, and more effective leadership.
(Time: 9:01)
Listen on:iTunes / Stitcher / Google Play or

read more