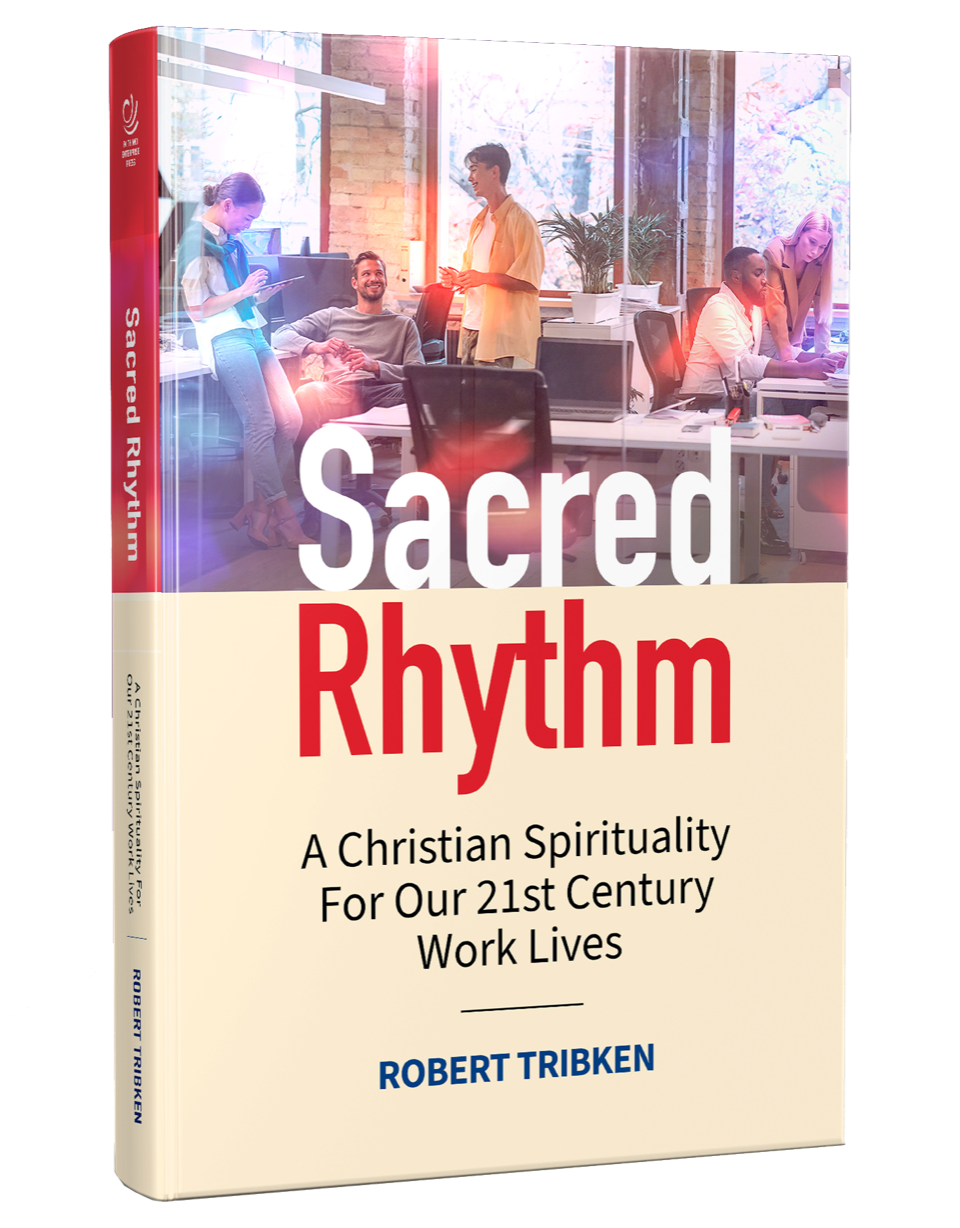 Now Available:
Sacred Rhythm
A Christian Spirituality
For Our 21st Century
Work Lives
Find the sacred meaning of your work
Sacred Rhythm suggests that our spirituality can play an important role in our work lives. It encourages us to turn toward God and the divine mystery and then, perhaps inspired, return to our daily work with a new sense of purpose and a deepened desire to make a positive contribution to the greater good and the well-being of others.
This can have practical implications for our work. It can help us develop a deeper sense of purpose, hope, and optimism. It can help us overcome obstacles, deal calmly with stress and interpersonal conflict, build healthy collaborative relationships, and work with greater wisdom and strength. And it can help us understand how our daily work contributes to human flourishing, not just for ourselves and our families but for others as well.
The book offers for your consideration practical insights from multiple sources, including the Bible, contemporary research, and the author's experience in business. It invites you to consider these in light of your own faith or spirituality and your own work experience.
From the Introduction:
Many of us have a deep, intuitive desire to connect with something deeper than ourselves; while some might use different words, for many this means a deeper awareness of God and the divine mystery. And many of us have a corresponding desire to allow this awareness, however we understand it, to inspire us as we live our lives and work with a renewed sense of purpose.
We might not be aware of this sacred rhythm for much of our lives, but from time to time it seems to emerge into our consciousness. And I believe that even when it remains hidden in our subconscious, it can still have a powerful effect.
Our Christian spirituality can help us think about this. It can also help us think about who we are, how we might relate to God and the great mystery, and how we can contribute to the well-being of others. It can help us work toward the biblical concept of shalom, or human flourishing, and deal with things that get in the way, especially sin and catastrophic misfortune. It can encourage us to find and engage in spiritual practices that help us in our work and on our path of growth.
Even in a time of crisis, whether caused by economic difficulty or other factors, our spirituality can help us act with more courage and resilience. . . And it can help us keep our sense of enterprise and optimism as we overcome obstacles and seek new opportunities.
The author addresses the human need for purpose and to "connect with something deeper than ourselves", and does so in a way that offers new insights for our consideration. The result is a book that can help us think through the deeper meaning of work and business and connect these with our own faith or spirituality. . . I HIGHLY recommend buying this book.
CMUGEEK
What an amazing book. I am so glad I found this. A "manual" for people like me, suffering from burnout syndrome and busyness. The author shows how to reconnect with your true self and what it really means to be human. . . I can highly recommend this wonderful book.
Marc Posch
This book suggests practical ways your faith or spirituality can help you move in this direction. The author offers for your consideration insights from multiple sources, including the Bible, contemporary research, and his and others' experience in business. He invites you to consider these in light of your own faith or spirituality and your own work experience.
Mike
Throughout the book the author smoothly weaves personal business experiences and his views with current research findings, as well as biblical stories, which kept my interest and made the reading enjoyable. Almost every time I put the book down it left me with thoughts to ponder and a smile.. . . This was my best read of the year.
Amazon Customer
Mr. Tribken has written both an educational and practical text, walking the fine line be scholarship and spirituality. But what makes his writing so enjoyable is its inherent humility, keeping exhortations and criticisms to a minimum. And to boot, his writing is extremely clear and concise. Highly recommended!
Christopher B.
A high value read for anyone of any faith that wants to increase spirituality, especially in relation to work.
artofautism
Sacred Rhythm raised my awareness and perspective about living out and actualizing my spirituality in my work-life. It helped me be "more fully alive, engaged, purposeful and compassionate" in all my life. Thank you.
Amazon Customer
Prologue     1
Introduction     3
Chapter One: Divine and Human Agency   13
Chapter Two: Toward Shalom and Human Flourishing   25
     Postscript: The Alleviation of Poverty in the Bible   41
Chapter Three: What Goes Wrong – The Problem of Sin   43
Chapter Four: What Goes Wrong – Misfortune and Adversity 55
Chapter Five: Developing Character Strengths   77
Chapter Six: Spiritual Practices for Your Workday 105
Chapter Seven: Can Your Work Be Your Calling? 137
Chapter Eight: Spiritual Dimensions of Leadership 157
Conclusion 171
Appendices:     
A: Work in the Bible 175
B: Work in the Twenty-First Century 189
C: Spirituality and the State of Flow 203
  D: The Opportunity for Churches 209
Endnotes 225
Bibliography 235
Scripture Index 251
Name and Subject Index 257
About the Author
Robert Tribken has been in business for more than four decades and is the founder of several enterprises, including a west coast supplier of refrigerated packaged foods to retail chains in eight states. His educational background includes an M.B.A. from the Harvard Business School and an M.A.– Theology from Fuller Theological Seminary. He is the founder and current Chairman of the Center for Faith and Enterprise and has been involved in a broad range of work related ministries.