Category: Markets, Enterprise, and Well-Being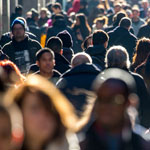 This week we talk about everyday heroes – – the people who show up for work every day, doing work they do not particularly like, in order to support others for whom they care.
We sometimes think of work done primarily for money as "just a job", as though it has less importance than work done as a calling or even work done to further a career. But this is not fair.
It is important to think about not just the money but what the money means. There can be a tendency in some quarters to think of greed, a desire for material objects, or maybe a striving for social status. But in most cases, people are working for things that can have considerably more validity than the stereotypes might suggest. They might be working to create a better life for their children, move to a safer neighborhood, reduce the chronic anxiety of financial insecurity, or maybe just to put food on the table. All of these desires, and many others, are valid – – maybe even more valid than some of the so-called callings we sometimes hear about.
In this episode we tell the story of one of these everyday heroes — an amazing working mother who provided a better life for her children. (Time 8:14)
Listen:
iTunes / Stitcher / Google Play or

read more