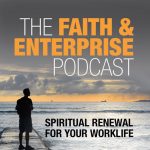 Most of us have had times when we seem to be going backwards in our career or in our work life. Or maybe times when we seemed to be dead in the water while everyone else was moving forward.
But in these situations are we really moving backwards? Or might there be something going on, out of sight – – something that is laying the foundation for new growth – – something of which we might be completely unaware?
It is not unusual for people, as they get older, to look back on those times when they thought they were stuck, and to realize that these periods were important for their subsequent growth.
There is hope.
We might not be able to change our objective circumstances, at least in the short run, but we can control our response to these circumstances, and in some ways our response is likely to be the most important element over the long term.
(Time: 9:40)
Listen on:
<iframe style="border: none" src="//html5-player.libsyn.com/embed/episode/id/5075979/height/100/width/450/theme/standard/autonext/no/thumbnail/no/autoplay/no/preload/no/no_addthis/no/direction/backward/no-cache/true/" height="100" width="450" scrolling="no" allowfullscreen webkitallowfullscreen mozallowfullscreen oallowfullscreen msallowfullscreen></iframe>
About the Faith and Enterprise Podcast
Each podcast episode deals with an aspect of Spiritual Renewal in Our Work Lives. Topics include finding purpose/work as a calling, spiritual practices that can help us in our work, dealing with workplace stress and other forms of workplace toxicity, spiritual aspects of leadership, and building a flourishing work life. We invite you to subscribe on iTunes, Stitcher, or Google Play, or listen on our website. You can also subscribe to email updates when we release new material.
The time has come for spiritual renewal.  We hope you will join with us on this quest.